2.16.12
Posted by Ryan Clark at 1:34AM

It was an excellent bubble week for the Texas Longhorns, as they took care of their own business at the same time that their main competitors were taking steps backwards. Texas extended its current winning streak to four games — the team's longest since mid-December — and added a quality victory to the tournament résumé with a furious comeback against Kansas State.
As we did in last week's edition of the Burnt Orange Bubble Watch, we are focusing in on the teams who are barely clinging to an NCAA bid and those who are still within striking distance. The Longhorns won't have the prettiest profile when it comes time to slot teams in the tournament, but they only have to fare better than the other ugly ducklings they are directly competing against. For that reason, our narrow focus shuts out the white noise and clarifies the picture for Texas fans.
Joe Lunardi is the only mainstream bracketologist who makes his S-curve available, so his rankings are used for the sake of sorting the teams. That's an important point to remember, as these rankings are not to be taken as gospel, but rather a jumping-off point so we can compare the Longhorns to the other teams currently in contention.
Now, a recap of all of the pertinent info. RPI and SOS numbers in this chart are taken from the most recent official update from the NCAA, which includes games through Sunday, February 12th. Records only include games against teams in Division I, and also exclude games against teams still transitioning to D-I. (Sorry, Colorado State, that win over Nebraska-Omaha is a no-go.) All records have been updated through Wednesday's action, although the records against the two subgroups of the RPI Top 100 are based on those RPI rankings from Monday. This means that results against teams located near the cutlines of 50 and 100 could gain or lose importance based on games that have occurred since that Monday update.
All teams listed above the big black line are currently dancing according to Lunardi's projections, while those below would miss the tournament. This exercise also assumes that all of the auto-bid winners are teams which would have already made the tournament. So, if somebody in the Big West surprises Long Beach State in the conference tourney and the 49ers still grab an at-large, the number of available bids would shrink by one, and that black line would creep further up the table.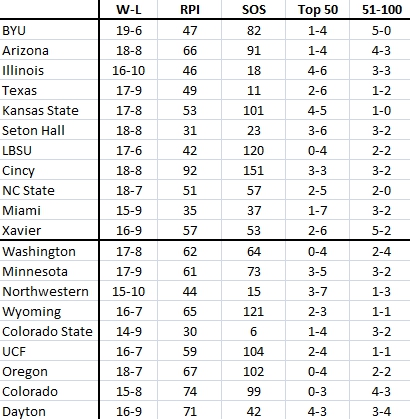 Texas added a quality win by beating Kansas State, but the recent slide by the Wildcats knocked them out of the RPI Top 50. With upcoming road games against Baylor and Missouri, it's unlikely that KSU will be climbing back into the Top 50, which leaves the Horns with just two big-time wins to beat their chest over. Tuesday night's win over Oklahoma was once a Top 100 RPI victory, but the Sooners tripped up against Texas Tech on Saturday and slid down to 104 in Monday's RPI release. Following the loss to the Longhorns, Oklahoma will only be heading further from the Top 100.
Fortunately, most of Texas' direct competitors failed to log their own quality wins over the last week. Illinois lost at home to Purdue last night, the team's fourth-consecutive loss and seventh in their last eight games. Based on their current trajectory, it's likely that they continue slipping down the S-curve, right past Texas and into dangerous territory. Crosstown rivals Cincinnati and Xavier both failed to pick up big road wins, dropping games at Marquette and Temple, respectively. Miami also had a big opportunity in front of them when UNC came to town last night, but the Hurricanes let a halftime lead melt away, along with their chances to prove that the win over Duke was no fluke.
Even with those teams missing the boat, there was very little movement downward, thanks to a complete lack of upward pressure from those teams on the outside of the bubble. Northwestern whiffed on two chances to log quality road wins, falling short against both Purdue and Indiana. The Wildcats have an eerily similar profile to the Longhorns, so it does seem odd that Lunardi deems Texas worthy, yet finds Northwestern lacking. Of course, if the Wildcats keep losing the big ones, there won't be much uproar if they do in fact miss the field.
Behind Northwestern, the gaggle of Mountain West teams jockeying for a fourth conference bid keep faceplanting against the bottom half of the league. After Wyoming was held to 38 points in a road loss to New Mexico on Saturday, the Cowboys followed it up with an inexcusable home loss to Air Force last night. Colorado State was nipped at the buzzer by Boise State, just days after being upset by TCU in Fort Worth. Even with those gaudy computer numbers, the Rams are making it very difficult to justify an NCAA bid.
All of this mediocrity is why it appears that the Longhorns control their own destiny at this point. Road games against Oklahoma State and Texas Tech are both winnable, while the home date with Oklahoma provides another good chance for a victory. A few teams might finally turn it on down the stretch and catch up with Texas, but the schedule is certainly in the Longhorns' favor at this point. Barring a bunch of madness in the conference tournaments, it appears that Texas just needs to win the games it is supposed to win while other conference's bubble prospects cannibalize each other.
As we look ahead, the following chart includes Ken Pomeroy's projected final records for the bubble contenders, which are calculated using the cumulative odds from each team's remaining schedule. Quality win opportunities are listed for any games against teams in the RPI Top 100.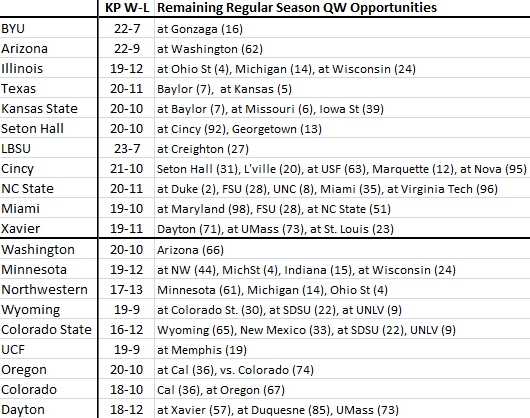 While there are a ton of chances for other bubble teams to log quality wins, so far the breaks have all been going in the favor of the Longhorns. There are sure to be a few upsets over the next few weeks, but no team has yet shown the momentum needed to make a surge up the charts. If they can avoid any embarrassing losses down the stretch, it appears that the Horns won't be sweating too much on Selection Sunday.