2.22.12
Posted by Ryan Clark at 2:46AM

The cries rang out almost immediately on Saturday afternoon. Still stinging from watching their team suffer a road loss to Oklahoma State, Texas fans littered message boards, Twitter, and the blogosphere with their own personal obituaries for the 2011-12 basketball season.
Those frustrated rants grew in number on Monday night, as the Longhorns blew a 12-point lead to Baylor in the second half, letting a potentially monumental win slip right through their fingers. Any orangeblood with an internet connection knew for a fact that the NCAA was out of reach, and that this Longhorn team was bound for the NIT. If more Texas fans were aware of the existence of the CBI and CIT, there likely would have been quite a few folks penciling the Horns into those brackets, as well.
The most overlooked fact in all of this hand-wringing, however, is that Texas doesn't play basketball in a vacuum. It's not just the results of Longhorn games that will shape the NCAA bracket, which won't even be completely filled in until March 11th. The simple fact of the matter is that the Selection Committee has to put 68 teams into the field every year, and this is one of those seasons where it's very difficult to find enough worthy squads. As Mike Finger put it after the heartbreaking loss to Baylor, "Look at the wretched class of goof-offs on the bubble."
Fortunately for Longhorn fans, many of those goof-offs decided to copy Texas' performance from Monday night when faced with their own big games on Tuesday. Northwestern failed to score for the final two minutes of regulation and first three minutes of overtime, missing the chance to pad their résumé with a big win over Michigan. N.C. State dropped their third straight game against a top-flight ACC team, losing to North Carolina by 12. Elsewhere, Xavier couldn't come up with a road victory against UMass, dropping a seven-point decision to the Minutemen.
Only Seton Hall and Colorado State made strong statements on Tuesday night, logging big home victories over Georgetown and New Mexico, respectively. The Pirates now boast seven wins against the RPI Top 100 and will wrap up the regular season with very winnable games against Rutgers and DePaul. At this point, it certainly looks like Kevin Willard should have Seton Hall in the dance in just his second year on the job.
The Rams, meanwhile, present a much more interesting case. They own very strong computer numbers, including a schedule that was 7th-toughest nationally even before they knocked off New Mexico. That challenging schedule won't get any easier, though, as Colorado State still must travel to San Diego State and host UNLV. Barring a clean sweep of those games, the Rams will likely have work left to do in the MWC tournament.
After all of the dust had settled from a busy Tuesday night, the Longhorns — already written off by their fanbase — found themselves back in Joe Lunardi's bracket. Clinging to the edge of the bubble, Texas was once again one of the "Last Four In," with a game against league doormat Texas Tech coming up on Saturday. Thanks to all of the bubble carnage happening nationwide, simply winning easy games can keep Texas on the right side of the cutline for now.
If you're new to Burnt Orange Bubble Watch, here's a quick recap of the rules. The table below is based on Lunardi's Monday bracket, with slight revisions made based on his bubble update following Tuesday's action. Barring any bid thievery in conference tournaments, teams listed above the black line would be dancing according to Joe.
The W-L records only include games against D-I competition. Asterisks next to team names indicate the number of wins that were not against D-I foes, and thus do not count for profile purposes. RPI and SOS numbers are taken from Monday's update from the NCAA, and records against the RPI Top 50 and Top 100 are updated through Tuesday night's games. The "KP W-L" column shows each team's predicted final record, as calculated by Ken Pomeroy.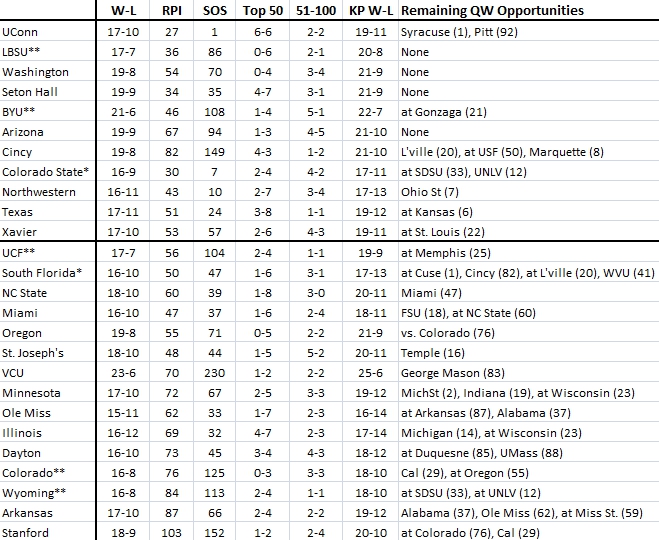 With no one wanting to step up and make a charge at the end of the season, the pack of contenders sitting below the cutline grows with every update. More and more teams slide further down the list, making the clump of teams at the bottom of the chart a muddled mess of candidates whose tournament hopes are incredibly slim. Thanks to the inability of big-conference bubblers to nail down quality wins, some surprising teams are rising through the ranks simply by winning the games they are supposed to. Central Florida and South Florida are now sitting just outside of the tournament field according to Lunardi, although the Bulls have a terribly tough slate to finish the year. Meanwhile, the Golden Knights will still have to take care of Memphis on the road, but have a very manageable road ahead of them in the C-USA.
Tons of bubble games are on tap again tonight, although almost all the action involves teams still left on the outside looking in. For these squads, wins are practically mandatory at this point if they hope to catch the rest of the competition. Here are the games Horn fans should be keeping an eye on tonight:
Mississippi at Tennessee, 6 P.M. CT (ESPN Full Court 1/ESPN3)
Dayton at Duquesne, 6 P.M. CT
Richmond at St. Joseph's, 6 P.M. CT
VCU at UNC-Wilmington, 6 P.M. CT
South Florida at Syracuse, 7 P.M. CT (ESPN Full Court 2/ESPN3)
Michigan State at Minnesota, 7:30 P.M. CT (Big Ten Network)
Central Florida at Rice, 8 P.M. CT
Wyoming at San Diego State, 9:30 P.M. CT (The Mtn)
The Golden Gophers can make the biggest statement of the night with a win over Michigan State, which would undoubtedly leapfrog them over much of the competition. South Florida can also come up with a huge victory, but upsetting Syracuse at the Carrier Dome will be extremely difficult. Dayton also has a lot to prove in their road trip to Pittsburgh, as the Flyers have been up-and-down all year and have already lost to the Dukes at home. Dayton has quite a few quality wins on the résumé, but has to avoid dropping too many games down the stretch and giving the committee a reason to leave them out.
The Longhorns, meanwhile, have three more days to sit back, relax, and let other teams make mistakes. While there's little chance that Texas fans will feel any level of comfort heading into Selection Sunday, it's clear that their team is at least still in the mix.