3.07.15
Posted by Ryan Clark at 11:29AM

It's the final Saturday of college basketball's regular season, with a handful of leagues already knee-deep in their post-season tournaments. For the Longhorns, the calculus at this point is fairly simple — a win today against Kansas State and versus Texas Tech in the Big 12 tournament would likely get them in. An additional win in the tournament quarterfinals against Baylor, Iowa State, or Oklahoma would practically guarantee a bid.
Of course, Texas' results don't happen in a vacuum. If other bubble teams perform well, a 20-win season without an additional Top 50 RPI win might not be enough. On the other side of the coin, if the bubble teams falter and no bid thieves emerge in middle-tier conferences, the Longhorns can breathe even easier if they take care of their own business.
For a full look at all of Texas' bubble competition, check out the table below. It includes all teams currently seeded 10th or lower by the composite Bracket Matrix, which was last updated after Thursday's games, plus their First Four Out. The teams at the very bottom of the table are essentially dead in the water at this point, but we've been tracking them for a few weeks, so why stop now?
The asterisks next to a team's name denote how many of the wins in their "W-L" column came against opponents not in Division I, which won't count when the committee gets down to selecting and seeding teams. You'll also see an asterisk in the "100+ Ls" column next to Tulsa, which does actually mean that they lost to a D-II school. All RPI numbers and records vs. RPI segments are updated through last night's games.
The "KP W-L" column is a prediction of a team's final regular-season record, according to Ken Pomeroy's magical computers. The lone exception to that is BYU, who is already playing in their league tournament. Pomeroy only predicts games that are currently scheduled, so for the Cougars, we added a 2-1 record in the conference, assuming that chalk holds and BYU loses to Gonzaga in the WCC title game.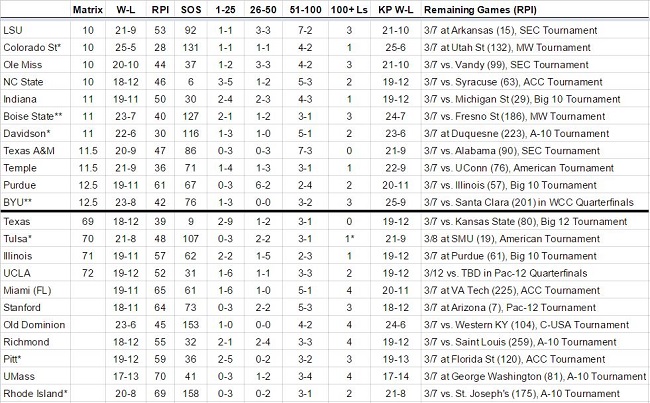 If you have a lot of free time on Saturday and an affinity for average college basketball, the viewer's guide below should come in handy. The current RPI of each bubble team's opponent is listed in parentheses, but since the Purdue-Illinois game matches up two bubblers, both team's RPI ranks are included.
Saturday Viewer's Guide
NC State vs. Syracuse (63) – 11 A.M. CT, CBS
Indiana vs. Michigan State (20) – 11 A.M. CT, ESPN
Pitt at Florida State (120) – 11 A.M. CT, ESPN2
Miami (FL) at Virginia Tech (225) – 11 A.M. CT, Watch ESPN
LSU at Arkansas (15) – 1 P.M. CT, ESPN
Texas A&M vs. Alabama (90) – 1 P.M. CT, ESPN Full Court and Watch ESPN
Temple vs. UConn (76) – 1 P.M. CT, ESPN2
Rhode Island vs. St. Joseph's (175) – 1 P.M. CT, No TV
UMass at George Washington (81) – 2:30 P.M. CT, NBC Sports Network
Texas vs. Kansas State (80) – 3 P.M. CT, ESPN2
Stanford at Arizona (7) – 3 P.M. CT, CBS
Purdue (61) vs. Illinois (57) – 3:30 P.M. CT, Big 10 Network
Old Dominion vs. Western Kentucky (104) – 4:30 P.M. CT, American Sports Network (Regional)
Davidson at Duquesne (223) – 6 P.M. CT, A-10 Network ($)
Boise State vs. Fresno State (186) – 7 P.M. CT, Watch ESPN
Richmond vs. Saint Louis (259) – 7 P.M. CT, A-10 Network ($)
Colorado State at Utah State (132) – 8 P.M. CT, ROOT Sports Rocky Mountain
Ole Miss vs. Vanderbilt (99) – 8 P.M. CT, SEC Network
BYU N-vs. Santa Clara (201) – 10 P.M. CT, ESPN2