1.17.12
Posted by Ryan Clark at 9:42PM

If you're not following along on Twitter, you might be completely oblivious to the fact that I've spent the last six days on the road, crossing the Midwest on my quest to experience the electricity of even more college hoops havens. Each season, the schedule usually offers an opportunity or two to extend a typical UT-based road trip into an even longer one where I can visit other gyms that I wouldn't normally get a chance to see. I like to call these super-sized trips "XLRT", and the map below shows the 2012 edition.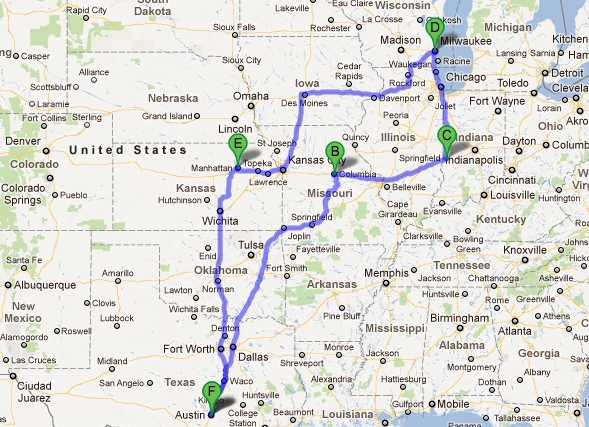 Thursday evening, I set out for Columbia, Missouri, where I was witness to the final Big 12 meeting at Mizzou Arena between the Tigers and Longhorns. Sunday morning, it was back on the road to Terre Haute, Indiana, to see a Missouri Valley clash between Wichita State and Indiana State. After a short night's rest, it was back to the interstate on Monday as I raced up to Milwaukee in time for a special 2:30 P.M. tip on MLK Day for Louisville and Marquette.
After three straight days packed with travel and hoops, today offered a white-knuckle drive out of snowy Milwaukee and all the way to Kansas City. The trip wraps up tomorrow night at Bramlage Coliseum, when the Longhorns and Kansas State Wildcats square off. Look for Notes from the Road and perhaps even some photos to start making their way to the site after the Iowa State game next week.