2.10.12
Posted by Ryan Clark at 1:48AM

The Texas Longhorns are sweating the bubble for the first time since the 2004-05 season, when an injury sidelined LaMarcus Aldridge and academic issues kept P.J. Tucker out of action. Despite those setbacks, Texas managed to make it into the field as an 8-seed, keeping alive a streak of tournament appearances that since has grown to 13 years. This season, a Texas squad featuring six freshmen has taken its lumps and missed some big opportunities, but the Horns are still alive and in the tournament picture.
Many fans of teams on the bubble ask the question, "What does my team need to do to get in?" Unfortunately, there's no magic formula or certain number of wins that gets a team in. Every year there's a different stack of résumés for the Selection Committee to sort through, so it's impossible to give a clear answer.
Obviously, running the table would get Texas into the Big Dance. Considering Ken Pomeroy gives Texas just a 1.6% chance to do that, we'll ignore that improbable scenario and instead focus on who the Longhorns are competing against. Without looking at the other teams competing for those final spots, you cannot get a clear picture of what your favorite team needs to do — or have other teams do ‐ down the stretch. Using the S-curve from ESPN's Joe Lunardi, this week we'll dive into the eight teams who are just above the cut line and the nine teams who are on the wrong side of the bubble.
This discussion excludes teams who are currently leading their conference. For the sake of those on the bubble, we operate under the assumption that all conference titles will be won by their leaders, saving more NCAA invites for the bubblicious squads. What these marginal teams don't want to see is for a surprise conference tournament winner to come from a league like the Missouri Valley, where Wichita State and Creighton have profiles that will still earn them an at-large.
The table below shows Lundardi's last eight teams in, along with the nine teams closest to making the tournament in the bracket he released Monday. If his bracket were the real deal, those above the big black line would be dancing, while those below it would be making NIT plans.
RPI and SOS numbers are taken from the most recent official update from the NCAA, which included games through Sunday, February 5th. All records are updated through Thursday night's games, but the records against the RPI Top 50 and Top 100 are based on Monday's RPI rankings. That means those particular W-L counts could be off by a game or two when the RPI numbers update again on the 12th, if teams that were hovering around those cutlines have moved above or below the thresholds.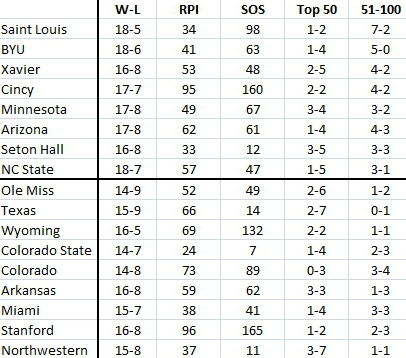 When it comes to wins against the RPI Top 50, Texas compares well to its peers, having logged a victory over both Iowa State and Temple. Unfortunately, the Horns have also squandered far more opportunities, suffering seven losses that overshadow the wins. No team in Lunardi's field has dropped more than five games against the Top 50, and many have stocked up on additional wins against teams ranked 51-100 in the RPI.
Of course, the tournament is still 31 days away. There's a lot of time for teams to make their cases for the Big Dance, and a lot of time for teams to play their way out of consideration. Just ask the Razorbacks, who fell on their faces in an embarrassing 81-59 loss at Georgia on Wednesday night.
With that in mind, we've compiled the data below to look at how these teams might stack up at the end of the season. The "KP W-L" column is the team's predicted final record according to Ken Pomeroy. The second column lists all remaining games against teams currently ranked in the RPI Top 100.
You might notice that if you visit a team's individual page on Pomeroy's website, their game-by-game predictions don't always match his predicted final record, which we have used in this chart. Pomeroy uses cumulative probabilities to predict a team's overall record, giving a more accurate representation of what the final outcome is likely to be. For instance, he has the Longhorns favored to win six of their final seven games, but four of those predicted wins range from just 55% to 65% likely. With those odds not much better than a coin flip, the team's cumulative probabilities predict Texas to go just 4-3 down the stretch.
The Longhorns still have five games remaining against the RPI Top 100 and three against the Top 50, although Kansas State could slide out of that group in the coming weeks. The Longhorns are not alone in having numerous opportunities to make a mark, as the nine teams sitting on the wrong side of the bubble all have at least three Top 100 games remaining. While the Longhorns won't likely pull a clean sweep of those games, only the road contest at Kansas seems like an insurmountable obstacle.
Texas will be hard-pressed to catch teams like Saint Louis and BYU, who have few opportunities left to trip up. While the Billikens still face road tests in LaSalle and Duquesne, the committee rarely leaves out teams with a solid RPI number like the one they boast. Instead, the Longhorns will most likely have to overtake teams like Minnesota, Cincinatti, N.C. State, or Arizona.
The Golden Gophers have a ton of big-win opportunities left on the table, but have played so inconsistently this season that it's hard to see them suddenly flipping the switch. They let a huge win get away last night when Wisconsin escaped Williams Arena with an overtime victory. They still have Ohio State, Michigan, and Indiana at home, and will need to win one or two of those to solidify their case. Fortunately for the Gophers, the Hoosiers are a far different team on the road, so they should have a good chance to pull off that upset.
Cincinatti has a fairly terrible computer profile with an RPI of 95 and an SOS of 160. Their inclusion at this point is based completely on a 6-4 record against the RPI Top 100, but that mark could be sullied down the stretch if the Bearcats struggle with a very tough finishing slate that has six games against the Top 100, including three on the road.
Beating N.C. State for a bid could be a little more difficult for the Horns. While the committee is supposed to take into account the entire body of work, it's hard to overlook the fact that the Wolfpack already knocked off the Longhorns on a neutral court back in November. Texas fans will have to hope that N.C. State squanders their opportunities to upset Florida State and North Carolina at home and drops an embarrassing game somewhere along the way.
Lunardi currently has three Pac-12 squads in his bracket, with Colorado, Stanford, and Oregon also still listed on the bubble of his 90-team S-curve. Although he's the expert, we find it tough to see that conference earning three bids, short of Washington and Cal going on a tear to separate from the pack, followed by a surprise team winning the league tournament.
The Golden Bears currently have the Pac-12's best RPI mark, checking in at 48. The rest of the league's "top" teams all range from 62 to 96, with their best non-conference wins coming over Colorado State and N.C. State. When an entire conference is basically competing right at bubble level, it's hard to argue for three bids.
With all that taken into consideration, it seems that it would be easy for Texas to pass up Arizona down the stretch. If the Longhorns earn their share of quality wins over the next three weeks, the Wildcats will have a tough time keeping pace. Their only remaining opportunity to win a Top 100 game comes at Washington, while they have ample opportunity to trip up on the road against teams not even in the Top 100.
Of course, all of this discussion is for naught if the Longhorns can't take advantage of the opportunities left before them. Win against Kansas State on Saturday, and Texas' outlook is still only partly cloudy. Drop that one, and they'll quickly be sliding down the S-curve, with thunderstorms working their way into the forecast.
One Response to "Burnt Orange Bubble Watch"